PANEL - Cultural entrepreneurship: the importance of collaboration with cities as a vector of impact
In a world where cities increasingly need to animate civic life, how can their collaborations with cultural entrepreneurs be vectors of impact?
Moderated by none other than Jenny Thibault, Executive Director of the Société des Arts Technologiques, we welcome to the table Marie-Odile Melançon, Division Manager - Cultural Development Support at the Ville de Montréal, Gonzalo Soldi, Co-Founder and Creative Director at Mirari, Martin Laviolette, Executive Producer and General Manager at Montréal en Histoires, and Pierre-Olivier Bontems, Entrepreneurship and Innovation Manager at Zù.
Join us on September 27 at 3:30 p.m. at Mila, 6650 St-Urbain!
-MODERATOR: Jenny Thibaut - Society for Arts and Technology (SAT) After studying cinema and anthropology, Jenny quickly branched out into cultural event production. She worked on a number of Quebec festivals before co-founding the award-winning FME in 2003 in her hometown, an event she has grown with over the years. In 2004, she joined the NFB in project marketing, where she contributed to the growth and international influence of the first interactive works and installations and its dedicated studios. In 2017, she took the helm of RPM, which became Xn Québec under her leadership. In less than 5 years, she has strategically repositioned this association to federate and represent the entire Quebec digital creativity sector. Since 2021, she has been General Manager of the Society for Arts and Technology (SAT), a mandate in line with her career path.
-Gonzalo Soldi - Co-founder and Creative Director Mirari With his eclectic background, Gonzalo has always been interested in luminous and tangible mediums of expression. His approach began with his architectural studies in Peru, which he left in 2003 to settle in Montreal and further his work on sensitivity and perception in the performing arts. Whether as performer or designer, he has been collaborating on the creation of circus, theater and dance shows for the past ten years. With the founding of Mirari in 2015, he is committed to making culture accessible to as many people as possible by taking the performing arts out of their box. He has since been exploring public art installations and augmented scenography for large-scale events.
-Marie-Odile Melançon is currently Head of the Cultural Development Support Division at the Ville de Montréal. With the Service de la culture for over twenty years, she has held a variety of positions and worked on a number of files, including the maisons de la culture network, cultural mediation, inclusion and diversity, cultural statistics and indicators, and cultural vitality in neighbourhoods. She holds a master's degree in urban studies from the Institut national de recherche scientifique du Québec, and has participated in a number of studies, notably on cultural citizenship, cultural recreation, governance issues in cultural neighbourhoods, as well as various partnerships and strategic planning to support the city's interventions in support of cultural development throughout Montreal.
-Martin Laviolette is a dynamic entrepreneur who has participated in the creation of several organizations and projects of significance to his community in the fields of culture, technological arts, tourism and sustainable and social development.
His sense of innovation, entrepreneurial vision and leadership have led him to bring to fruition mobilizing and unifying projects in the cultural, municipal and corporate milieus. These include the 19 editions of the FestiBlues International de Montréal, then Montréal en Histoires, for which he is responsible for the organization's deployment and general management, as well as the production of Cité Mémoire, a series of projections presenting the history of Montreal.
Martin Laviolette is also the founder of the ideation and production agency H2Emotion. Every day, he applies his experience in consultation, partnership and fund-raising to his varied mandates, helping to bring small and large ideas to fruition.
-Pierre-Olivier Bontems, Entrepreneurship and Innovation Manager After simultaneously paving his way as an elite athlete (Canadian fencing champion and international referee), an engineer-consultant working in the fields of bioeconomy, sustainable development and open innovation (EnVertis and Natural Resources Canada), and co-founder of a start-up providing educational services and international training (Global Fencing Masters), Pierre-Olivier Bontems is now mobilizing all his know-how to the benefit of the growth of high-impact projects in Quebec's innovation ecosystem.
As head of incubation at Zú, he draws his motivation from accompanying dozens of talented entrepreneurs in achieving their goals, supporting the development of their services, products or technological solutions through all stages of the startup life cycle.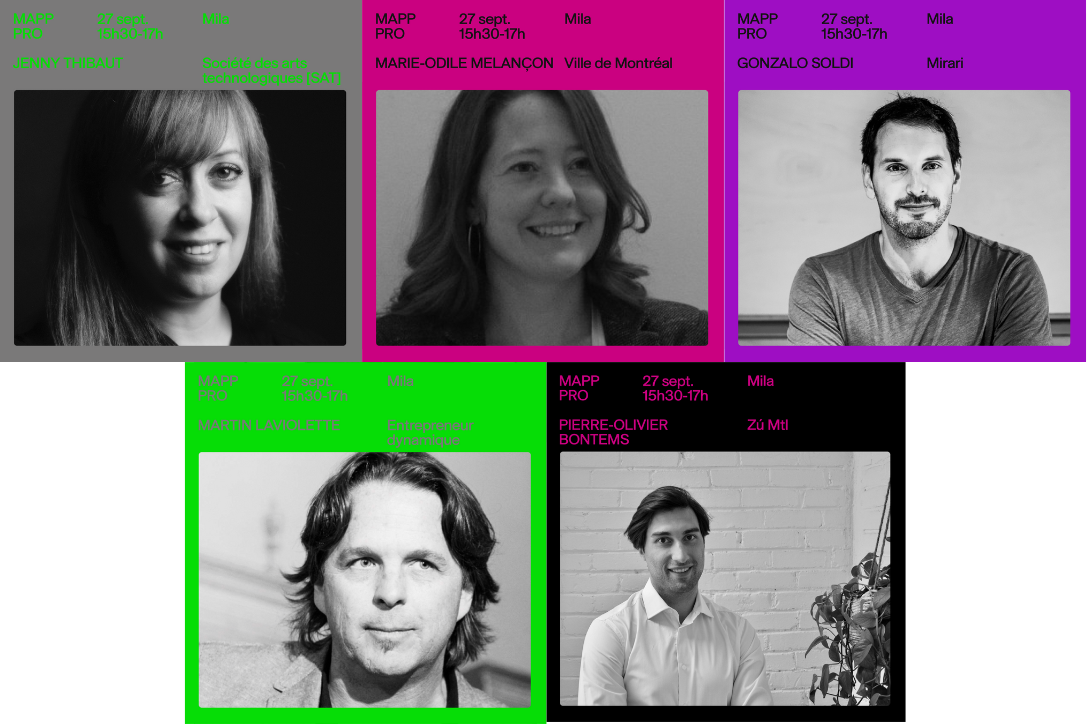 Informations
🕓 September 27, 3:30 to 5 p.m. 📍 Mila - institut québécois d'intelligence artificielle 6650 Rue Saint-Urbain Montréal, QC H2S 3G9