In collaboration with Mila - Institut québécois d'intelligence artificielle, come and listen to Simon Demeule, researcher in deep learning at Mila, Julien Coll, interim co-director of the Centre de développement et de recherche en intelligence numérique - CDRIN, Alex Boya, digital visual artist at the NFB, and Patrice Puiberneau, professor of imaging at École NAD - UQAC. Moderated by none other than Pia Baltazar, philosopher and Research Director of the Société des Arts Technologiques, we will reflect on "Augmented Creation: How AI is profoundly transforming digital artistic expression, tools and perception".
MODERATOR -Pia Baltazar is an intermedia composer and SAT's new Director of Research. With a triple background in engineering, art philosophy and musical composition, her artistic and technological research approach has been developing for over twenty years at the intersection of interactive design and artistic production. Passionate about the development of open source digital tools for intermedia creation, she has been coordinating the ossia.io initiative for over fifteen years. Through the development of these tools, she is particularly interested in the question of temporal writing, interaction and intermedia orchestration. More generally, her research interests focus on the expressive possibilities of intersensoriality and the embodied character of the creative process. With this in mind, his long-term research program for SAT is aimed at producing collaborative tools for immersive and collective artistic creation, particularly in telepresence.
-Alex Boya, having worked for a decade with the NFB's English Animation Program and Interactive Studio as director, researcher and consultant, is an expert in "Genomic Expressionism". His innovative method of animation, called "reverse data collection", fuses hand-drawn drawings and data-driven processes to visualize the genome of human expression in the artistic pursuit of meaningful representations. Through depth-aware interpolation, Boya facilitates a coevolution between hand-drawn sketches and AI algorithms, pushing the boundaries of AI-guided art and promoting human-machine interaction. His expertise in mentoring budding filmmakers, supporting interdisciplinary projects and amplifying understanding of animation and immersive media fuels his recent exploration of ethical generative AI in the creative arts and applications.
-Patrice Puiberneau has been a director of photography and lighting designer for over 30 years. A graduate of École NAD-UQAC, specializing in Digital Image Composition, he has been teaching there since 2018. Patrice received the Canadian Council for the Advancement of Education (CCAE) Award of Excellence with the Université du Québec in 2002. From an early age, he was fascinated by photography, light and space. Attracted by technology, he developed a passion for digital imaging in the early 1990s with Alias and 3ds Max software. Cameraman then DOP at Radio-Canada, he captures images for several productions, including the documentary series Découvertes. As a journalist-cameraman, he covered news for NBC, CBC, CTV, Bell Media and Reuters (among others). At NAD, he perfects creative techniques with AI to develop innovative visual concepts and techniques with this creative medium.
-Julien Coll: After a bachelor's degree in audio-visual studies and 7 years as a technical artist in the games and animation industry, Julien joined CDRIN to push his curiosity further. He held a position as Research and Innovation Advisor, which enabled him to keep in touch with innovations in the sector and help the industry push its boundaries. He now holds the position of interim co-CEO. He is involved in a number of initiatives in the entertainment sector, including the Siggraph Montreal chapter, events such as MIGS and CAFÉ, and entertainment innovation committees.
-Simon Demeule is an interdisciplinary artist and master's student in artificial intelligence at Mila, Université de Montréal. He has a background in interactive arts and music, and also pursued a bachelor's degree in computer science applied to the arts at Concordia University. His work has been shown and awarded both here and abroad, at the Mozilla Festival 2021 in Amsterdam, the MURAL Festival 2022 in Montreal, and the Watersprite Film Festival 2023 in Cambridge, UK. Iel is particularly interested in how AI intersects with art, both in the way it challenges our conception of art and creativity, and in the way this technology enables us to create new artistic experiences.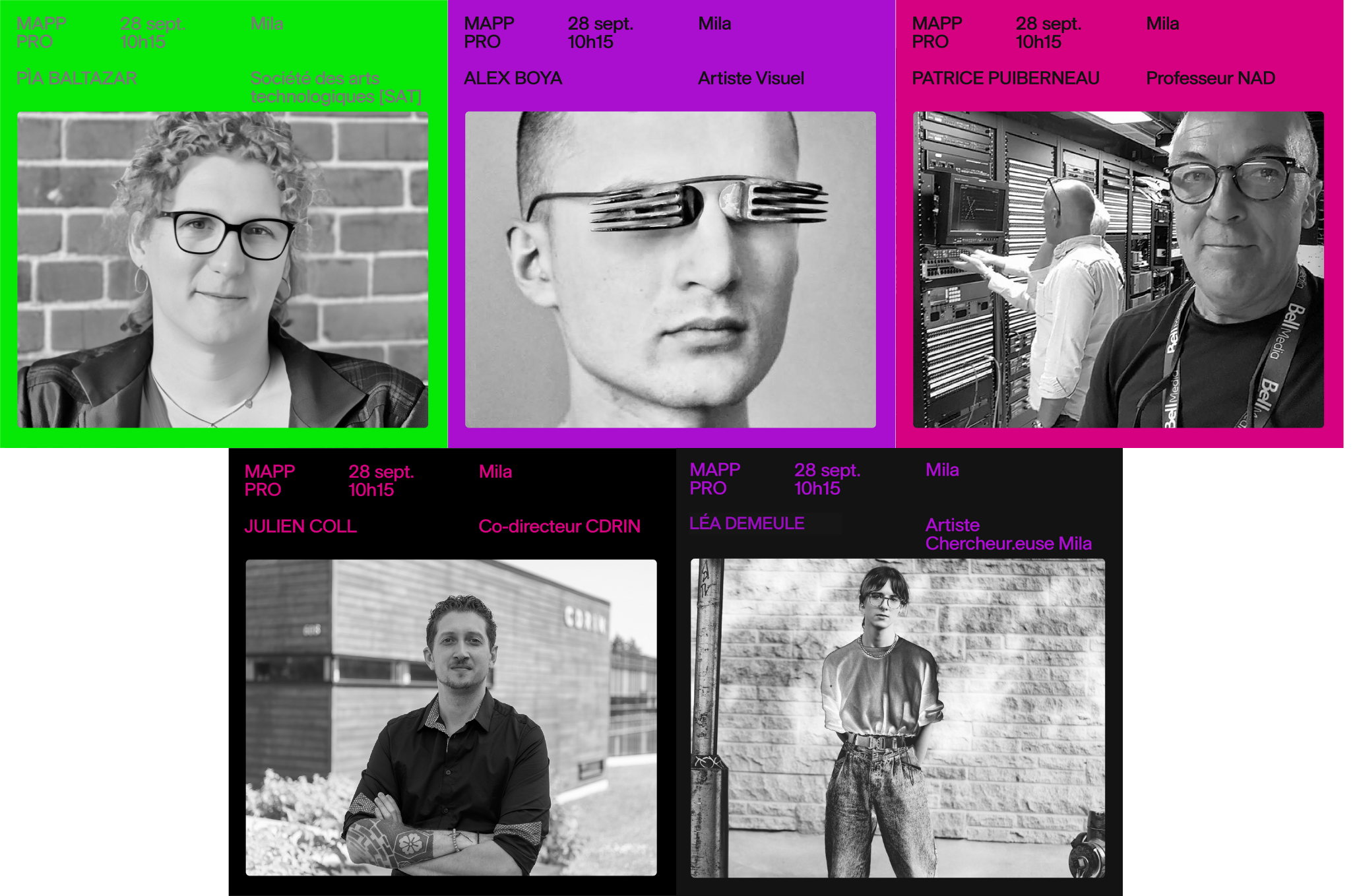 Informations
🕓 September 28, 10:30 a.m. to 12 p.m. 📍 Mila - institut québécois d'intelligence artificielle 6650 Rue Saint-Urbain Montreal, QC H2S 3G9