PANEL: Key skills for a successful career in the digital arts: how to stand out, adapt and thrive in the industry
In digital creativity, there are very few projects where we are alone in the process, due to the nature of the technologies and skills required. So how can we perform well individually, but especially as a team? How can a creative context lend itself to our skills?
Moderated by Alexandra Marin, Research and Development Manager at the Société des Arts Technologiques, this discussion will feature Nelly-Eve Rajotte, Professor at UQÀM's École de Design, Anne Le Bouyonnec, Project Director for digital creation expertise and trades at Synthèse, Billy Roussel, Talent Acquisition Specialist at Moment Factory and Claude G Théorêt, Founder and CEO of X Machina-AI.
-MODERATOR: Alexandra Marin, Society for Arts and Technology (SAT) With a Master's degree in Project Management, Alexandra has been working in the arts and culture sector for several years, directing technological innovation projects with a social and artistic impact. She has worked for Radio-Canada and the MUTEK digital creativity festival in Montreal. She is currently R&D Services Manager at the Society for Arts and Technology (SAT), where she works on research and development projects in partnership with several organizations around the themes of collective immersion and the hybridization of physical and virtual spaces.
-Nelly-Ève Rajotte - Professor at UQAM's School of Design, where she heads the Moving Image and Sound Design Department. A visual and media artist, her hybrid practice focuses on the moving image, sound and immersion - through performance and installation. She is also a director, editor and composer. In 2017, she was President of the Jury (Digital Creation) for the Jeux de la Francophonie in Abidjan. She was also visiting professor and artist-in-residence at the Mel Hoppenheim School of Cinema at Concordia University (2018-2020). In addition to numerous exhibitions in Quebec with, among others, the Darling Foundry, Parisian Laundry, Occurrence, Clark, Optica and Circa, her work has been shown at several international festivals, including MUTEK, FIFA, Mois Multi and Espace [IM]...
-At SYNTHÈSE, Albane Français acts as Director of Communications and Partnerships, with the aim of raising the profile of Quebec's digital creative ecosystem and positioning SYNTHÈSE's expertise in the field of training-job matching. Albane has been working in the digital creativity industry for 15 years. She began her career at the NAD-UQAC school, then held various management positions at the URBANIA MEDIA and CREO production studios.
She also sits on the board of iScola, an organization dedicated to equipping and training teachers in the use of ICT. Since September 2023, Albane has joined the organizing committee of the Mois Numérique Jeunesse, orchestrated by Printemps numérique, aimed at raising awareness of digital opportunities among young people under 35. Thanks to her varied experience, she has a good understanding of the issues and future challenges linked to the digital creativity sector.
-Billy Roussel - Moment Factory Talent Acquisition Specialist. Billy has been working in the tech world for 6 years, currently at the crossroads of technology and art. With a diverse background that includes a B.A. in film studies, 10 years' experience in the service and sales industry and 7 years in recruitment, Billy has always been in touch with the public. She uses her diverse experiences and keen interest in people to help candidates find their X at Moment Factory, where she has been working as a Talent Acquisition Specialist for 2 years now.
-Claude Théoret, founder and CEO of X Machina-AI, is a former astrophysicist. He previously founded Nexalogy, one of Montreal's first AI companies. He has played an active role in the birth and growth of Quebec's startup ecosystem.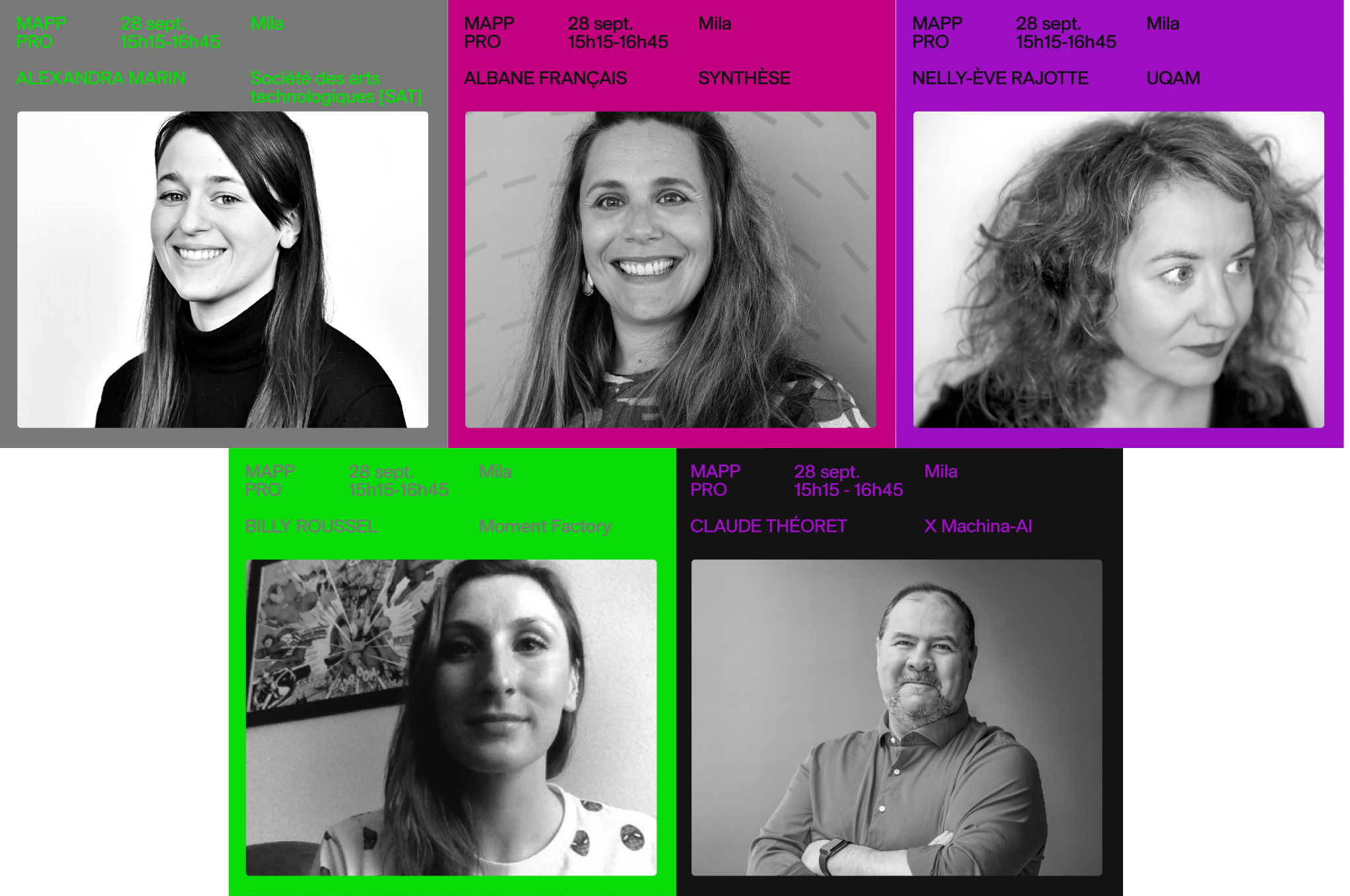 Informations
🕓 September 28, 3:15 to 4:45 pm 📍 Mila - institut québécois d'intelligence artificielle 6650 Rue Saint-Urbain Montréal, QC H2S 3G9